Paul and James
The Teaching of Both Compared
Paul and James did not contradict each other; but rather they complemented each other. What both men wrote was inspired by God (2 Tim. 3:16) and true. Paul's focus was on the unsaved man and how he might get right with God. James' focus was on the saved person and how he might show his faith and demonstrate the reality of his faith.
Paul's Teaching
James' Teaching
You cannot be saved by works(Ephesians 2:8-9)
You cannot show that you are saved without works (James 2:14,18)
How can a person be saved?By faith alone (Rom. 3:28)
How can a person show that he is saved? How can he "show his faith"?Only by works (James 2:18)
Faith without works saves (Romans 3:28)This is a living faith (saving faith)
Faith without works does not save (James 2:14)This is a dead faith (James 2:17,20,26)
Faith alone saves
The faith that saves is not alone
A person is not saved by works("works" are rejected by Paul as the means of salvation:it is wrong to say that a person must do good works in order to be saved)These are meritorious works, that is, works done to try to merit or earn salvation
A saved person will perform good works("works" are understood by James to be the result of salvation: a person does good works because he is saved)These are faith works, that is, works that spring from a faith that is real and living.
Paul agreed with JamesHe taught that good works must accompany saving faith (Eph. 2:10; Tit. 3:8; Gal. 5:6; Phil. 2:11-12).
James agreed with PaulHe taught that a person inherits the kingdom only by faith (James 2:5) and that Abraham was justified by faith (James 2:23)
Paul used the example of Abraham when he first believed in God (Rom. 4:3 and compare Genesis 15:6).
James used the example of Abraham when his faith was tested by God, about 40 years later (James 2:21 and compare Genesis 22)
The error Paul corrected:Salvation is by the works of the law (the error of legalism)
The error that James corrected:Works are unnecessary after a person is saved (the error of antinomianism)
Paul wrote about how a guilty sinner may be justified before God.
James wrote about how a believer can show that his faith is genuine (justification or vindication before men)
At the Jerusalem Council in Acts 15 the key issue was that salvation is by grace through faith and not by the works of the law. See the error in Acts 15:1 and Peter's conclusion in Acts 15:9,11. James, who took a lead role in this discussion never voiced any disagreement with Peter or Paul over this crucial matter.
Paul's perspective: He was viewing the guilty sinner who needed to be right with God. (The sinner is in view)
James' perspective: He was viewing the believer (or professing believer) who needed to demonstrate that his faith was real. (The believer is in view)
THe above information may be downloaded in a single page
chart here
.
---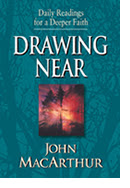 "In [Christ] we have redemption through His blood" (Eph. 1:7, emphasis added).
Redeeming grace is free to us, but its cost to God is inestimable.
Sin is not a serious issue to most people. Our culture flaunts and peddles it in countless forms. Even Christians who would never think of committing certain sins will often allow themselves to be entertained by them through television, movies, music, and other media.
We sometimes flirt with sin but God hates it. The price He paid to redeem us from it speaks of the seriousness with which He views it. After all, we "were not redeemed with perishable things like silver or gold . . . but with precious blood, as of a lamb unblemished and spotless, the blood of Christ" (1 Pet. 1:18-19).
In Scripture the shedding of blood refers to violent physical death—whether of a sacrificial animal or of Christ Himself. Sin is so serious that without bloodshed, there is no forgiveness of sin in God's sight (Heb. 9:22). Read more…
---