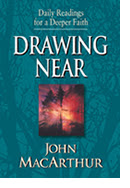 "In [Christ] we have redemption through His blood" (Eph. 1:7, emphasis added).
Redeeming grace is free to us, but its cost to God is inestimable.
Sin is not a serious issue to most people. Our culture flaunts and peddles it in countless forms. Even Christians who would never think of committing certain sins will often allow themselves to be entertained by them through television, movies, music, and other media.
We sometimes flirt with sin but God hates it. The price He paid to redeem us from it speaks of the seriousness with which He views it. After all, we "were not redeemed with perishable things like silver or gold . . . but with precious blood, as of a lamb unblemished and spotless, the blood of Christ" (1 Pet. 1:18-19).
In Scripture the shedding of blood refers to violent physical death—whether of a sacrificial animal or of Christ Himself. Sin is so serious that without bloodshed, there is no forgiveness of sin in God's sight (Heb. 9:22).
Read more...
---

Men's Group #1-January 9, 2016
The Exemplary Husband
, by Stuart Scott
Our responsibility to our wives and to our families is to be exemplary, to live as God instructs.
We are to live in such a way as to be above reproach, whether we are married or single.
Big idea:
God's will for Christian men/husbands is to shepherd and love his wife the way Christ shepherds and loves the church (Eph. 5:23-33). In fact, Christian men are called to follow Christ in all our ways.
Read more...
---