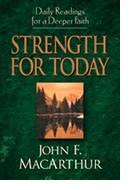 What is the unforgivable sin that Jesus spoke of?
According to Jesus' words in Matthew 12.31, the unforgivable sin is "the blasphemy against the Spirit." The sin He was confronting was the Pharisees' deliberate rejection of that which they knew to be of God (see John 11.48; Acts 4.16). They could not deny the reality of what the Holy Spirit had done through Him, so they attributed to Satan a work that they knew was of God (v. 24; Mark 3.22).
Someone never exposed to Christ's divine power and presence might reject Him in ignorance and "it will be forgiven him" (v. 32)—assuming the unbelief gives way to genuine repentance. Even a Pharisee such as Saul of Tarsus could be forgiven for speaking "against the Son of Man" or persecuting His followers—because his unbelief stemmed from ignorance (1 Tim. 1.13).
Read more...
---

Should I expect to be persecuted for my faith?
In Matthew 10.32, Jesus makes the amazing promise that the person who acknowledges Him as Lord in life or in death, if necessary, is the one whom He will acknowledge personally before God as His own (Matt. 13.20; 2 Tim. 2.10–13). Conversely, He describes the soul-damning denial of Christ of those who through fear, shame, neglect, or love of the world reject all evidence and revelation and decline to confess Christ as Savior and King.
Though the ultimate end of the gospel is peace with God (John 14.27; Rom. 8.6), the immediate result of the gospel is frequently conflict (v. 34). Conversion to Christ can result in strained family relationships (vv. 35, 36), persecution, and even martyrdom. Following Christ presupposes a willingness to endure such hardships (vv. 32, 33, 37–39). Though He is called "Prince of Peace" (Is. 9.6), Christ will have no one deluded into thinking that He calls believers to a life devoid of all conflict.
Read more...
---